Felicia Dunston is a co-author, author, worship singer, songwriter, life coach, entrepreneur, ordained evangelist and prophet, and women's ministry leader. Felicia considers her faith and family to be most important to her, with a passion for helping displaced women and children, speaking with seniors in nursing homes, and various community board membership activities within the community to impact change.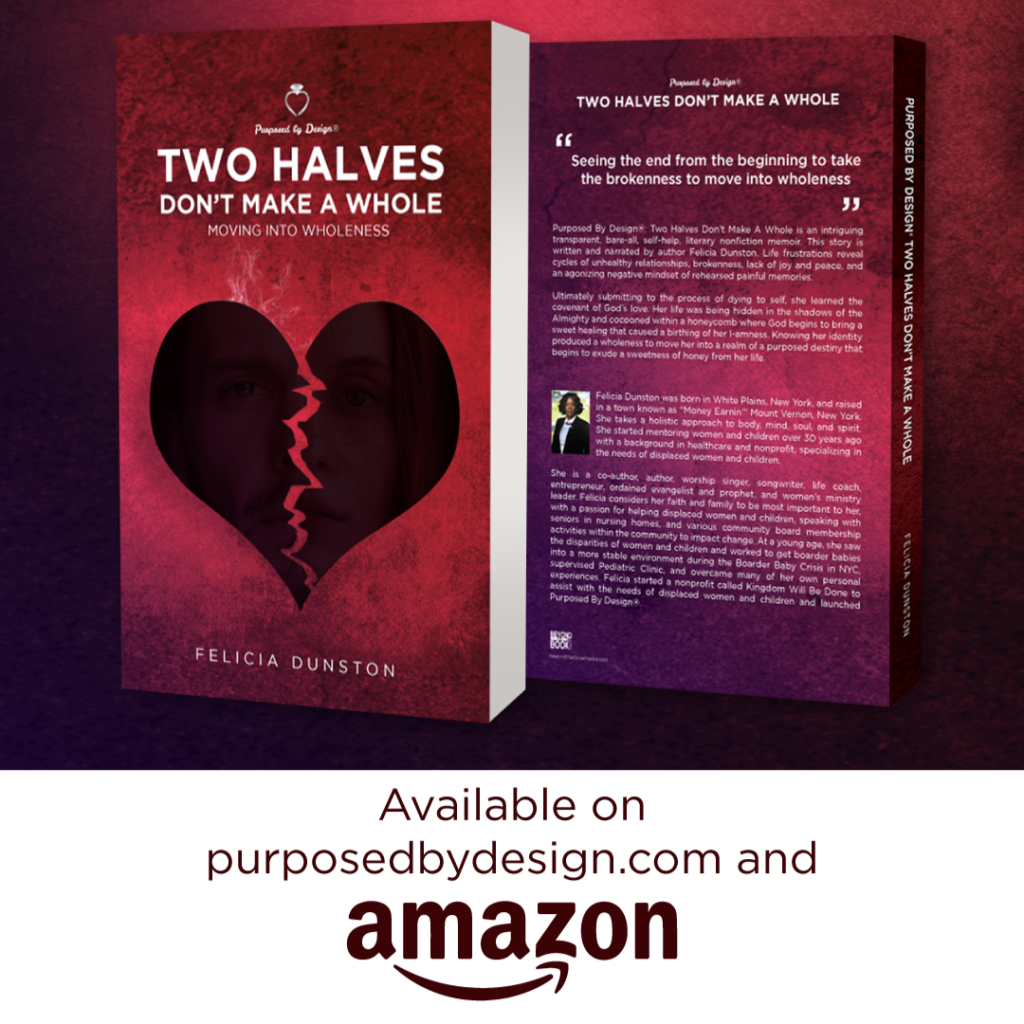 At a young age, she saw the disparities of women and children and worked to get boarder babies into a more stable environment during the Boarder Baby Crisis in NYC, supervised a Pediatric Clinic, and overcame many of her own personal experiences. Felicia started a nonprofit called Kingdom Will Be Done to assist with the needs of displaced women and children and launched Purposed By Design®.
About Her Book – Purposed by Design: Two Halves Don't Make a Whole
Looking back at a broken, bitter relationship, wondering, "Why do I continue to attract the wrong people? Did I not know something wasn't right before I said I DO?" We were two people that grew up in church (the church building), but was the church within for a God kingdom marriage? Doing church wasn't enough. Saying the words, "I love You.", wasn't enough. Yet, I found myself having to surrender to God. I've had to die from many things in life, but I have to say like the Apostle Paul, I don't count myself as one who has apprehended, but I'm still pressing towards the mark of the higher calling of God in Christ Jesus (Philippians 3:13-14). It is simply by the grace of God that I am what I am, and all glory and honor belong to Him. When I found myself praying to know God, in the power of His suffering and in His resurrection, and imploring for God to hide me behind the cross where people wouldn't see me but God in me and through me, that ignited something within me to die to self.
What exactly was I asking God to do? I didn't realize that dying to self would be a process that He would allow the manifestation of those things in my life that caused me to be brought to my knees, bowed down, and in a prostrate position acknowledging Almighty Sovereign God to heal the most painful hurt. God, the Sovereign Surgeon brought a healing beyond my limited imagination where I experienced a refreshing of the very core of my soul and a trust to seek Him above all upon touching the hem of His garment to be made whole. That process of dying to myself led to me knowing my purpose, destiny, and ultimately, whole relationships.
While attending nursing school, I recall reading a few required books on death, and I took note of the five stages of death: denial, anger, bargaining, depression, and acceptance. These stages not only occur for a physical death of a person but for a loss of anything in life: a habit, a person that left you or that you left, loss of control to let God become the pilot. Elisabeth Kubler-Ross wrote several books on death and stated, "But if we can learn to view death from a different perspective, to reintroduce it into our lives so that it comes not as a dreaded stranger but as an expected companion to our life, then we can also learn to live our lives with meaning" (Death The Final Stage of Growth). God is the expected companion in my life to help me die to live. "If it dies, it bringeth forth much fruit" (Are You Dead Yet?).
"The thief cometh not, but for to steal, and to kill, and to destroy: I am come that they might have life, and that they might have it more abundantly" (John 10:10, KJV).