Katee Huyghue is a former Accountant who decided to become a Real Estate Agent after her ferocious fight with Breast cancer. She made that decision because she felt it would be an easy way to earn a living since her previous job was too intense. The joke was on her!! The Mother of 4 wonderful children and 5 beautiful grandchildren suddenly became single. She loved the dynamics of Real Estate but yearned to explore her childhood dream of being a successful writer of fiction novels, so she delved into her "WHAT IF" mind and started to exaggerate and write about her own life experiences. Because of her status as a Single Black woman working as a Real Estate Broker, living in a not so diverse city of Southern California and trying to date in various ways, Katee felt that her life and experiences of dating in multiple ways gave her the avenue to transport readers to places where the everyday woman gets to speak her mind and live her best life. In doing so, she's able to bring everyone along for the ride and laugh.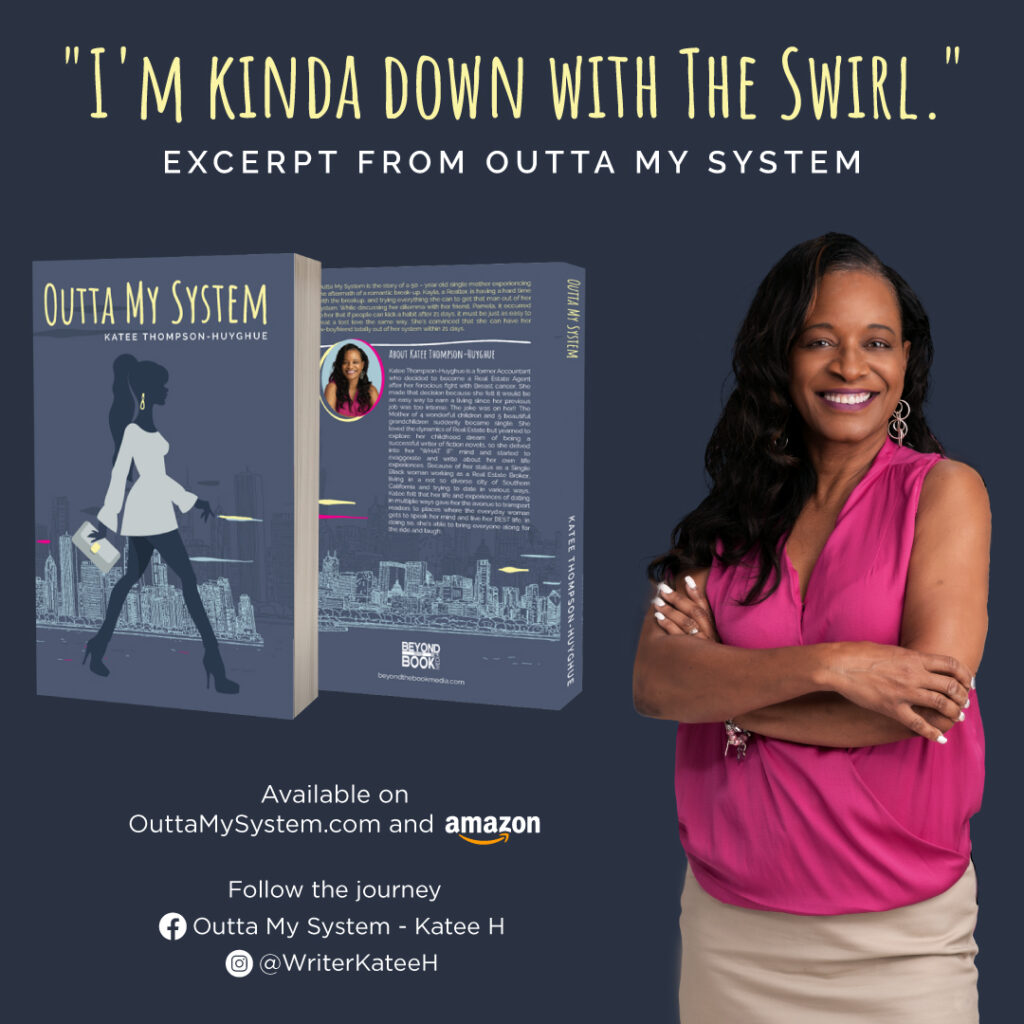 She does her best writing late into the evening just before the sun sets in the park or in a coffee shop surrounded by the sound of the low murmur of people talking or birds singing. Living in Southern California allows her to do that almost every day. Katee loves to lead her readers to places they've been or thought they may want to go, but would never admit it. She keeps it REAL in thought, action, and words. Although she considers herself an introvert, she loves to make people laugh, often saying that she's funnier than Eddie Murphy, much to the disagreement of her children and grandchildren.
About Her Book – Living Through Death
Outta My System is the story of a 50 – year old single mother experiencing the aftermath of a romantic breakup.  Kayla, a Realtor, is having a hard time with the break-up, and trying everything she can to get that man out of her system.  While discussing her dilemma with her friend, Pam, it occurred to her that if people can kick a habit after 21 days, it must be just as easy to treat a lost love the same way.  She's convinced that she can have her ex-boyfriend totally out of her system within 21 days.  
For the next 21 days, Kayla intentionally goes on a journey to get that toxic love out of her system, primarily by seeing what she can get INTO her system. Kayla takes us on her life journey for 21 days, including the ups and downs.
As in everyone's normal life, it doesn't work out exactly the way Kayla expected.  Her journey is full of anger, laughter, tears, flat-out debauchery, and self-realization.  She's rough, and raw speaks her mind, and has the mouth of a Sailor. Somewhere along the line, she decides "The Hell With It!", and just begins to live under her own terms.  Kayla brings her family, friend, and co-workers along for the wild and funny ride since they won't stay out of her business.  She spends the first few of the 21 days grieving the loss of the prior toxic love inappropriately and soon, she starts trolling grocery stores and dating online to add a little fire to the process.  It starts out slow and painful, but she eventually meets several possibilities that may help with her healing.  While making her way through a FEW men, she does realize that dating in your 50's is not at all like dating in your 30's.