Anita Johnson Merchant, known as "The Prayer Advocate," is a Certified Prayer Intercessor whose motto is, "I am SOLD OUT TO PRAYER." She is an Honor Graduate of the 2014 God's Leading Lady-Life Enrichment Program at The Potter's House of Dallas, Texas. She recently retired after 30 years of service from the Social Security Administration.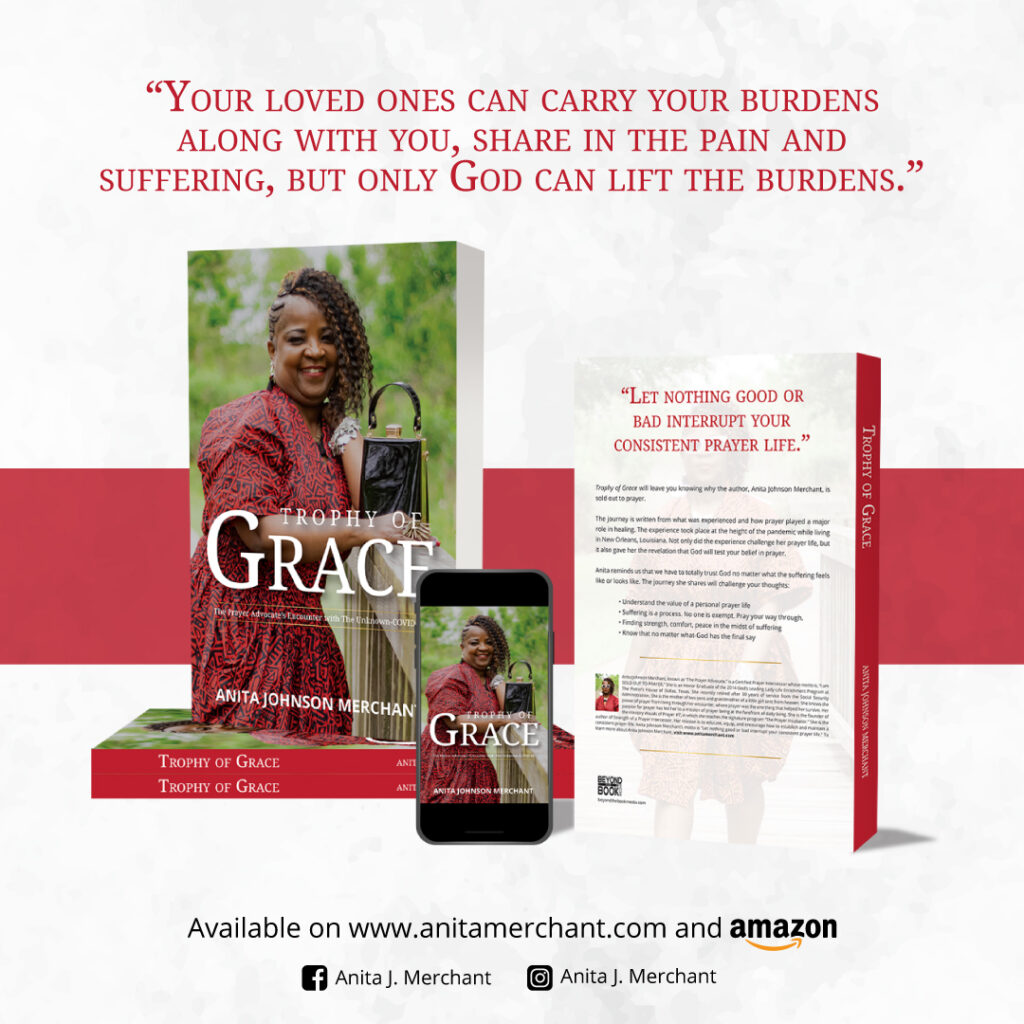 She is the mother of two sons and grandmother of a little girl sent from heaven. She knows the power of prayer from living through her encounter, where prayer was the one thing that helped her survive. Her passion for prayer has led her to a mission of prayer being at the forefront of daily living. She is the founder of the ministry Visuals of Prayer #7, in which she teaches the signature program "The Prayer Incubator." She is the author of Strength of a Prayer Intercessor. Her mission is to educate, equip, and encourage how to establish and maintain a consistent prayer life. Anita Johnson Merchant's motto is "Let nothing good or bad interrupt your consistent prayer life." To learn more about Anita Johnson Merchant, visit www.anitamerchant.com.
About Her Book – Trophy of Grace: The Prayer Advocate's Encounter With The Unknown-COVID-19
Trophy of Grace: The Prayer Advocate's Encounter With The Unknown COVID-19 is about a prayer intercessor's encounter with COVID-19.
Hearing about God's healing from prayer is one thing. Living the healing through prayer is another. Often Intercessors are thought to be exempt from suffering. After all, they are the ones who go to God in prayer on others' behalf. Even Intercessors can not escape their time of suffering.
Having no encounter with COVID-19 can only leave an imagination. Even with hearing the world talk about COVID-19, there is still a puzzle about how the encounter must have felt, what effect it took on the mind, body, soul, and Spirit while encountering COVID-19, and the after-effects.
Within the pages of this book, a journey is shared by Anita J. Merchant, The Prayer Advocate, of her prayer life before, during, and after her encounter with COVID-19.
"I have refined you, but not as silver is refined. Rather, I have refined you in the furnace of suffering" (Isaiah 48:10, NLT).
"I have heard your prayers and seen your tears; I will heal you" (2 Kings 20:5, NIV).