Camille Wesley has been an ordained Evangelist since 2008. She is a dynamic teacher and preacher and she loves the Word of God. She relishes the fact that her relationship with The Master is the one thing that changed her life forever. Her passion for others to be in a relationship with Christ seeps through the pages of this memoir. Camille is not an evangelist, but she is a mother of three children; Shaquerah, Amiri, and Shaina, the grandmother of four beautiful granddaughters, and five additional grandchildren from a previous marriage. She devotes her time to prayer and studying the Word of God and caring for her family.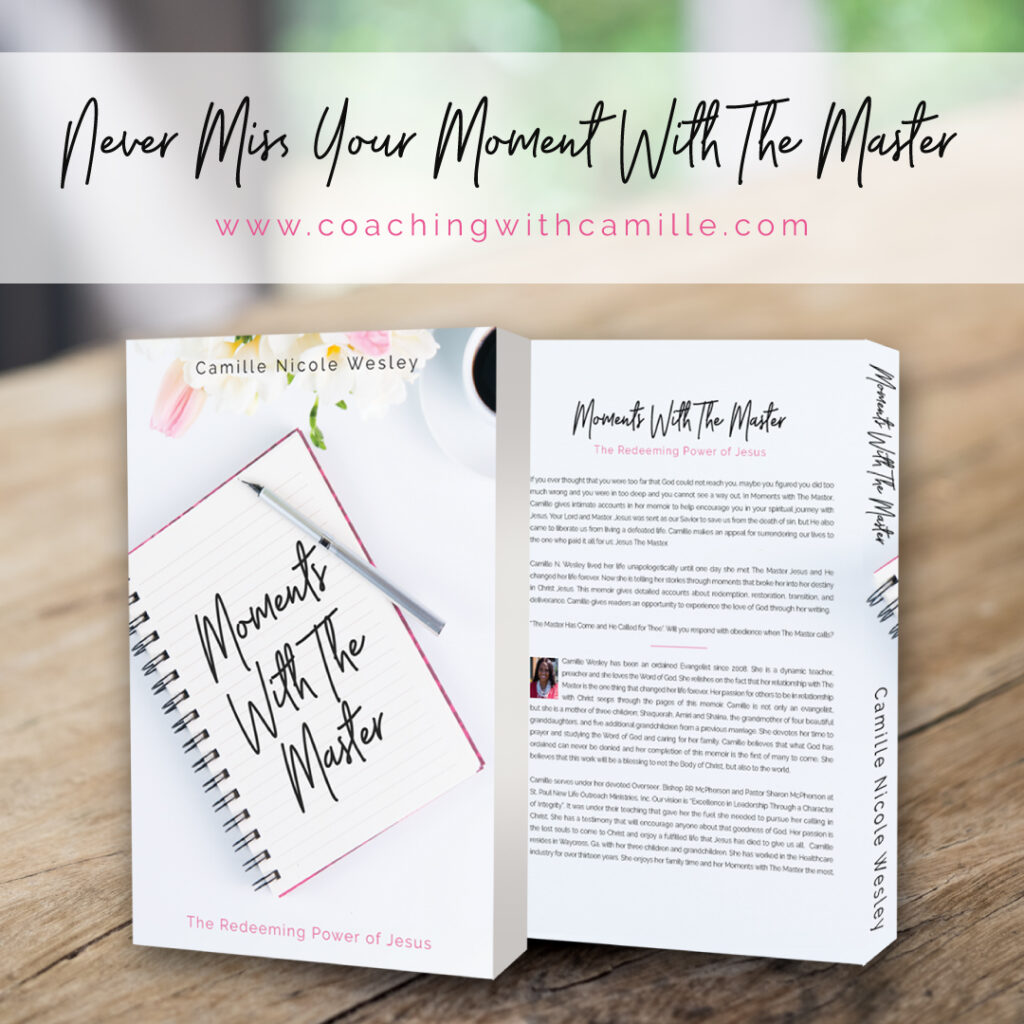 Camille believes that what God has ordained can never be denied and her completion of this memoir is the first of many to come. She believes that this work will be a blessing to not the Body of Christ, but also to the world.
Camille serves under her devoted Overseer, Bishop RR McPherson, and Pastor Sharon McPherson at St. Paul New Life Outreach Ministries, Inc. Our vision is "Excellence in Leadership Through a Character of Integrity". It was their teaching that gave her the fuel she needed to pursue her calling in Christ. She has a testimony that will encourage anyone about the goodness of God. Her passion is for the lost souls to come to Christ and enjoy a fulfilled life that Jesus has died to give us all.
Camille resides in Waycross, Ga. with her three children and grandchildren. She has worked in the Healthcare industry for over thirteen years. She enjoys her family time and her Moments with The Master the most.
About Her Book – Moments with the Master
If you ever thought that you were too far and that God could not reach you, maybe you figured you did too much wrong and you were in too deep and you cannot see a way out. In Moments with The Master, Camille gives intimate accounts in her memoir to help encourage you in your spiritual journey with Jesus, Your Lord, and Master. Jesus was sent as our Savior to save us from the death of sin, but He also came to liberate us from living a defeated life. Camille makes an appeal for surrendering our lives to the one who paid it all for us; Jesus The Master.
Camille N. Wesley lived her life unapologetically. One day she met The Master, Jesus and He changed her life forever. Now she is telling her story through Moments that gracefully broke her into her destiny with Jesus The Master. Camille gives details in this memoir that gives detailed accounts about redemption, restoration, transition, and deliverance. Camille gives readers an opportunity to see how much God loves us and how much He cares about every detail of our lives.
"The Master Has Come and He Called for Thee". Will you respond with obedience when The Master calls?