Jasmine C.L. Baker was born and raised in South Bend, IN, and obtained her Bachelor of Arts Degree in Sociology from Michigan State University in East Lansing, MI. She is currently pursuing her Master's Degree in Professional Counseling from Concordia University. Her love for writing began as a child, and she continued that love throughout adulthood. She began writing her first book, Grieve, Heal, Thrive, Repeat: Practical Tips for Navigating Grief and Loss, in December of 2019, but took the time to ensure that it was a book written from a healthy place and not a broken one. She is a writing coach and editor as well as the founder of her Christian Grief Coaching business, On Purpose Global Enterprises, LLC which she started in April of 2020.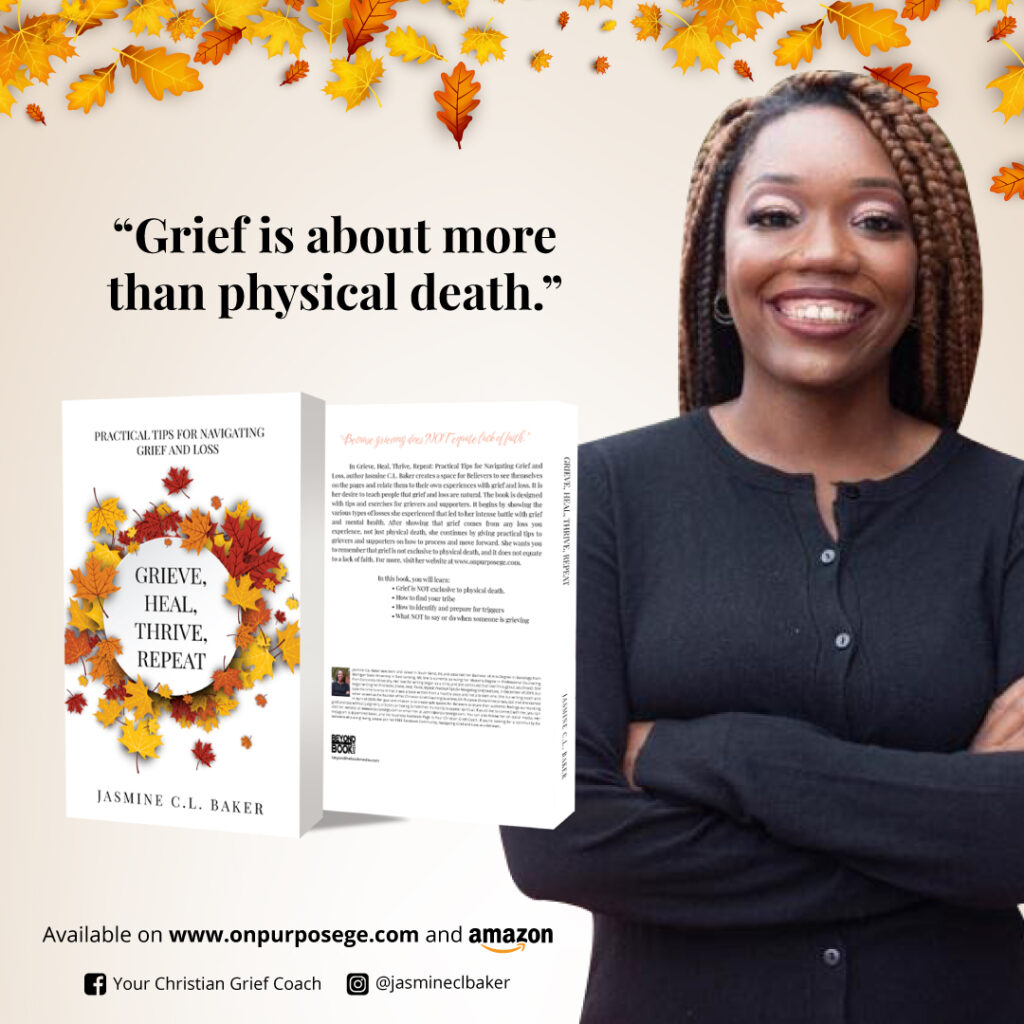 Her goal and mission is to create safe spaces for Believers to share their authentic feelings surrounding grief and loss without judgment, criticism, or having to hide their humanity to appear spiritual.
In her free time, she enjoys crafting and baking, spending time with her family and friends, watching movies, and traveling. If you'd like to connect with her, you can visit her website at www.onpurposege.com or email her at admin@onpurposege.com. You can also follow her on social media. Her Instagram is @jasmineclbaker, and her business Facebook Page is Your Christian Grief Coach. If you're looking for a community for believers who are grieving, please join her FREE Facebook Community, Navigating Grief and Loss as a Believer.
About Her Book – Grieve, Heal, Thrive, Repeat
On a scale of 1-10, how prepared do you feel to navigate grief and loss in your life? If you've already encountered significant loss, how well were you able to process and grieve? If the loss you experienced was the physical death of a friend or loved one, how many times did someone's attempt at offering encouragement or support actually end up doing the opposite, leaving you feeling angry, hurt, isolated, etc.?
If you know someone who has been grieving, how prepared do you feel to support them? Did you know what to say? Did you know what to offer? Did you ask questions like "What happened?" or offer "encouragement" like "It was for the best."
As believers, we should be prepared to handle grief and loss, considering we know that it is inevitable. Why is it, then, that when we experience grief and loss, we're made to feel like we aren't allowed to grieve?
In Grieve, Heal, Thrive, Repeat: Practical Tips for Navigating Grief and Loss, author Jasmine C.L. Baker creates a space for believers to see themselves on the pages and relate them to their own experiences with grief and loss. Her desire is to teach people that grief and loss are natural parts of life and shouldn't be taboo topics. The book is designed with tips and exercises for both those who are grieving as well as those who are grief supporters.
She begins by telling her personal stories and grief and loss and then follows it up with tips on navigation. It is her desire that by the time you finish this book, that you'll feel seen, heard, and better prepared to grieve. Those grieving should feel empowered to move from passively grieving to actively grieving, and supporters should feel empowered to be better helps to those they love and care for the most. She wants you to remember that grief is not exclusive to physical death and that grief does not equate to a lack of faith.